Though his father was an Anglican minister, Wole was an atheist
Wole's father, Samuel Ayodele Soyinka, (whom he called S.A. or "Essay") was an Anglican minister and headmaster of St. Peters School in Ab?okuta. His mother, Grace Eniola Soyinka, owned a market shop, was active in the women's movement in her community and also was a practicing Anglican. Wole, on the other hand, was an atheist. His beliefs contributed greatly to his writing.
He's got some pretty influential family members
Wole's mother, Grace, was a member of the Ransome-Kuti family, known for its contributions to Nigerian art, religion, education, medicine and politics. His cousins include activists Beko Ransome-Kuti and Yemisi Ransome-Kuti, musician Fela Kuti, and Olikoye Ransome-Kuti.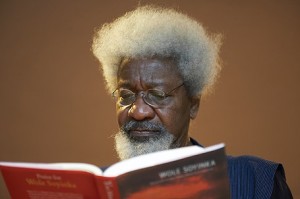 He's been arrested multiple times
Before he was famously arrested during the civil war in Nigeria, he was imprisoned in 1964 after being accused of making political radio broadcasts disputing published election results.
Despite imprisonment, Soyinka was wildly productive, writing and producing several plays
Some of Wole's most famous works were written during his 22-month imprisonment. He smuggled in materials such as books, pens and paper. Much of his work at this time, unsurprisingly, was focused on criticizing the Nigerian government that was restricting his freedom.
Wole went into voluntary exile amid concerns over the political situation in Nigeria
After resigning from his professorial duties at the University of Ibadan in April 1971, he spent five years of voluntary exile in Europe. During this time, he worked as the editor of "Transition," Nigeria's leading intellectual journal.
He has been married three times and divorced twice
He has been married to his third and current wife, Adefolake Soyinka, since 1989 and has three children with her (he also has children by his other wives). Adefolake is a former student of Wole's.
© 2013, Admin. All rights reserved.
Clap
Well done!