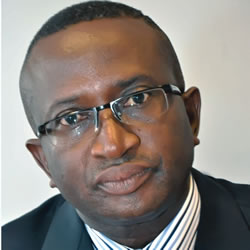 Senate Leader, Victor Ndoma-Egba on Saturday denied rumours that the leadership of the Senate was playing politics with the passage in to law of the Petroleum Industry Bill.
The critical bill, which is expected to restore full sanity into the petroleum industry in Nigeria, had been pending before the two chambers of the National Assembly since 2008.
Ndoma-Egba, in an interview with journalists in Abuja, maintained that the various committees in the House of Representatives and Senate had recorded impressive progress on the bill.
He insisted that no individual, group or agency of the government was using the legislature to deliberately slow down its passage before the end of the current legislative era.
He said, "I am hopeful that the PIB will be passed before the end of the current Senate, I am very hopeful.
"It is a technical bill that comes with a number of aspects.
"We have the legal aspect of the bill, the physical aspect, the environmental aspect of the bill, the petroleum aspect, and the gas aspect.
"Because of these various components we necessarily need to get several committees to work together.
"It is not very easy, if we have just two committees it is easy, but by the time you begin to have three, four, five committees, it becomes a bit problematic.
"So I don't think the PIB is jinxed."
The Senate Leader recalled that some Nigerians were of the view that the Freedom of Information Bill was jinxed, but that the National assembly broke the jinx.
On the issue of the allegation that the executive or certain stakeholders were working on the legislature to frustrate the passage of the bill, he said such moves cannot succeed.
He said, "On the question on whether we are playing politics, nobody has spoken to me about PIB, so I don't know what politics we have been playing with PIB, nobody has spoken to me about it."
Ndoma-Egba also denied knowledge of any letter from the office of the Attorney-General of the Federation, asking the Senate to suspend probe of the S1.1bn Malabu oil deal.
Media reports had last week, quoted extensively from a letter from the AGF, Mr. Bello Adoke, requesting a stay of action on the probe because of a pending suit on the matter.
But Ndoma-Egba said no individual, group or government agency can stop the Senate from carrying out its functions.
He said, "I am not aware of any letter and then secondly the legislature is an independent arm of government, we are not guided by directives from any other arm of government."
On the alleged robust relationship between the Senate and the executive, Ndoma-Egba said the upper chamber was designed to stabilise the polity.
Culled from www.punchng.com
© 2014, Admin. All rights reserved.
Clap
Well done!