The recent spate of violence trailing the sacking by a Cross River State High Court of the Muri of the Efuts in Calabar, Munene Effiong Mbukpa Eta Odionko Ebuka VII, is fast approaching unacceptable levels and threatening the peace of several neighbourhoods in Anantigha, Calabar South LGA.
Yesterday, all through the night, into the wee hours of today, sporadic exchange of gunfire confined most residents to their homes while others have taken off from the area, seeking refuge in other parts of the city of Calabar. One man told calitown.com this morning that overnight, "sirens could be heard blarring all night as the police were trying to contain the matter". "This ugly trend of events may create a window of opportunity for miscreants to unleash mayhem on law abiding citizens of the area", one source told calitown.com. The situation is slowing down business and vehicular activities in an area known for its volatile nature.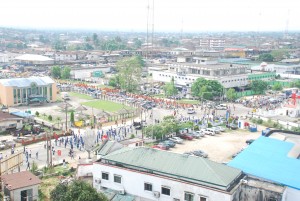 Recall that in the last five years, Muri Effiong Mbukpa and Muri (Prof) Itam Hogan, have been locked in a bitter struggle for the ancient Efut stool. While Mbukpa is said to have been selected by the Efut Combined Assembly in 2009, a faction of the Assembly reportedly met and selected Hogan as the Muri. The CRS government reacted to this impasse by setting up a panel of enquiry, headed by Ambrose Akpanika, to look into the matter.
Mbukpa, calitown.com is informed, had earlier approached a Calabar High Court in suit no. HC/MSC/109/2912, praying that the Court compels the state government to publish the report of the Ambrose Akpanika-led panel, a request the Court granted in a Mandamus signed by one Leonard A. Wogar and dated 3rd of July, 2013. Spanners were however thrown in the works when Justice Elias Abua of the High Court, Calabar, in suit no. HC/343/2012, sacked Mbukpa for failing "to comply with the directives of the state…" to submit himself to another selection exercise as ordered by government on September 21, 2012.
Sources say Mbukpa refused to submit himself to that process because, as he argued, his selection took place, long before Hogan's. Other sources say, Hogan enjoys the backing of government and has been okayed for the stool ahead of Mbukpa. This is the standoff that is making life unbearable in Calabar South.
Meanwhile, reports say 87 year old Etubom Ekpo Cobham, father of Efiok Cobham, has been taken away by unidentified gunmen, who struck in the sleepy village of Creek Town, on the banks of the Cross River. No official statement has been issued to this effect.
© 2013, Admin. All rights reserved.
Clap
Well done!