You can easily miss the place, infact nobody looking out for where to fill up his stomach will in all imagination be drawn to this place because it kinda happens where you don't expect to see IT.
The house is cylindrical in shape; maybe a warehouse of some sort before, or like my Ibo brothers will call it, a "packing shop". It has no windows, but small perforated blocks close to the ceiling for minimal ventilation. A squeaky ceiling fan that works on alternate days, staggers a spin that tells you that the small generator, the one Nigerians love to call "I pass my neighbour", will give way at any time. The tables are four, two aside, while the plastic chairs are arranged to fill up anything called space. On each table are two plates, one filled with toothpick and the other filled with forks, spoons and knives; call them cutlery if you care but I am sure where they function, the word cutlery will sound like a meteor from outer space.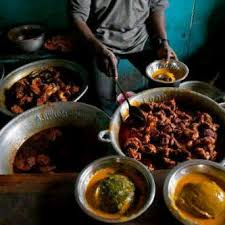 Done with the introduction, think it is about time you met "Mma Ukpoh", the sturdy food vendor whose 'Mama Put' is a stomach Mecca of sorts for a whole lot of people in Calabar. From behind her table on the Murtala Mohammed highway, directly opposite the Conoil filling station by MCC Road, while serving rice, beans, boiled yam, stew and fried plantain, on demand, she barks out 'orders', quarrels with a customer or two, collects money, offers change or just shifts her gaze from left to right trying to track her customers. Eka Kudoh, as some call her, just adds it all to achieve a package that is total and unique.
She opens shop a little after 8 a.m, Mondays to Saturdays and often is done selling before it is 11 a.m. Her rice, beans, yam and plantain, are normal, what you can buy anywhere in Calabar but it is the meat she serves that is the main attraction. She sells beef, boiled deep down and cut in huge chunks that cannot be ignored. The beef is sold from about N100 to N350.
The N350 chunks are an adult dose and the main attraction to the multitude walking in to pay some belly respect. Most persons prefer to buy and take away, but there is still a category that endures the 'packing shop' heat and eats in.
Customers who have no flasks and insist on a take away, are served in black cellophone bags arranged with an expertise that is not only rare, but vintage too. Her girls, the ones who help her sell, take turns and make customers shout at their native arrogance, something this customer standing before me refers to as "tori wor-wor". Eka Kudoh flashes you a smile only when she knows you have paid for your food and she has change for you and also when she is summarily counting daily sales. You won't blame her.
There is still a long line of eager and hungry men and women behind me as I make my way to my car with my bowl of food. I look back and count…they are 35 and more cars are pulling in for a food 'ritual' that plays out every day except on the Sabbath. When you see that long line of cars parked on the highway, let me tell you something; non broke down, Mma Ukpoh is the reason.
© 2013, Admin. All rights reserved.